Today, we'll take a look at some custom Miku which I happened to stumble across from VERY avid fan, if I may add.
So, I've been following Itabeya-san for almost 6-7 months now, ever since he started his blog about a year ago.
During the 5th re-release of the Nendoroid Hatusne Miku, he highlighted a few other works from some acquaintances.
This was when I came across one particular blogger, "
おとーちゃん / Oto-chan
". His collection of Miku related merchandise is ridiculously large, from plushies to prize figures and even limited editions before turning towards custom paint nendoroids.
Note:Will be on a trip to SW Australia for a week, back on next Sunday (31/10/10)
And no. We're not going to see all 7 colours of the rainbow of Miku. Pic is unrelated
But they're hella cute, right? (≧∀≦)
L to R:
Pink / Sakura Miku
Orange / Orange Miku
Yellow / Pineapple Miku
So back on topic, "Oto-chan" got his hands on 3 Snow Miku Nendoroids the other day.
He mentioned he had plans for them but will reveal it later over the weeks.

So the first custom Miku came weeks later; Sakura Miku (桜ミク)
He painted everything, except for the legs, to match the "Sakura" theme, even with "sakura" leaves all over her hair and twin-tails. Amazing detailing, seriously.
Bonus cookies if you can identify all of the nendoron faces below:
Unsure if this was painted from Snow Miku or standard Miku, but judging from those silver boots, it's definitely from the Snow edition.
His next custom paint was another flower-themed design,
Himawari Miku (向日葵 ミク)
Himawari, meaning "Sunflower", was the main theme as he wanted Miku to be associated with a certain flower (or season?)
Nendoroid experts will recognize where the sunflower accessory came from which nendoron...
So when you line them all up, you get this;
Last group pic is pure cuteness. xD
So, his last Snow Miku, what happened to it?
Well, his next custom paint job inspiration came from "Project Diva the 2nd Hatsune Miku"
More precisely, as he played the game, he loved the clothing for a certain Miku costume:
Infinity Miku (∞(いんふぃにてぃー)ミク)
He's completely changed the colour to match the PS3 version of Infinity Miku, right down to the end of those twin-tails. And as you've noticed, he took the red eyes from a nendoron that Touhou fans should know about...
He's also built a small Miku shrine for himself, pray everyday to his beloved goddess every morning....
This is not the most recent photo, as it has undergone many changes, including his room....
Well, if you wanna call it a room.....
My guess is that the bathroom is behind those boxes.....
Goes to sleep every night, holding one of these plushies
*me thinks bottom right is his futon*
His love for Miku surpasses beyond logic and loyalty.
Did I mention he was a Nanoha addict as well?
*curtain at left? god, his place is tiny*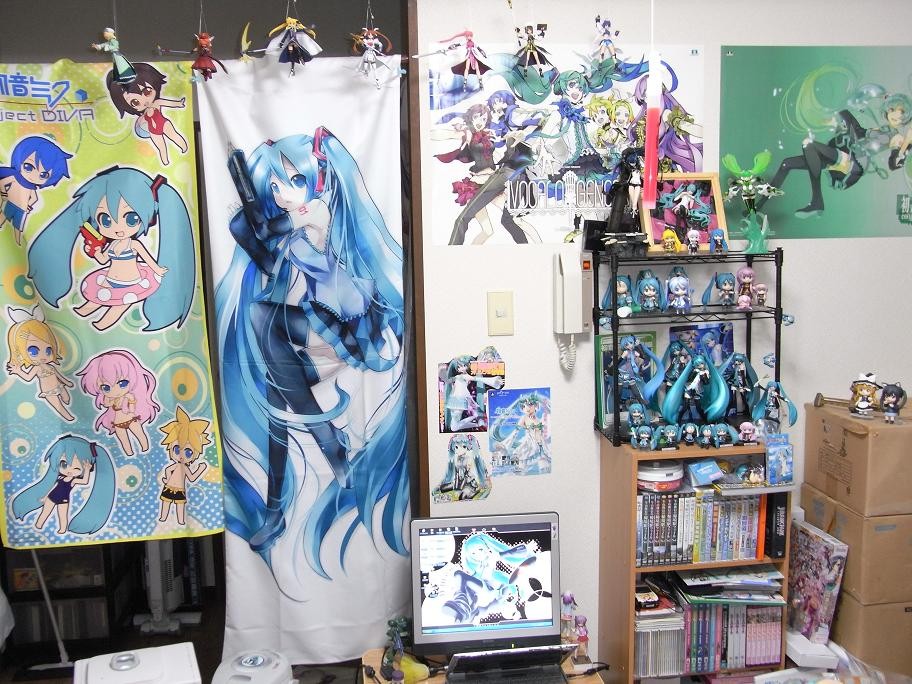 This is his most recent change to his room. I think.....
That Azusa and Project Diva tapestry (left) might prove it's latest-ness.
Still, I clap at his sheer devotion to Miku.
He does cover some interesting figures (only Vocaloid related) and merchandises he often spends on. Nanoha included.
Follow him at
Oto-chan's Blog
(Japanese)