As the banner says, the "Atami Love Plus + Matsuri Campaign" has begun. Time to pack up your swimming gear, sunscreen lotion, and hit the hot beaches of Atami, you ronery people.
Did promise a "post"-mortem report after the campaign was over, but that ended in July.
I wonder why I only remembered it now.....
Anyway, here's your full report, from the perspective of a lucky participant for the whole trip.
If you are experiencing some weird sounds emitting from this page when loading, scroll down to the end.
Aijyou Misaki [Love Key Cape(?)]

I have tried looking for a proper translation of this location, but my lurking level is not quite up there yet. For now, I'll call it Love Key Cape(?).
If there is a better/proper name location, please provide me one as I'm personally curious as well.
ema
(絵馬/wooden plague) were hung at the cape, to increase one's fortune in love..... or current relationship.
The characters on the statue reads;
As you and I,
stand here now,
time is forgotten,
as happiness is created,
by the attraction of fate.
A perfect spot for a couple to seal their relationship, on such a sacred and love-filled location, with a photo;
Our familiar friend couldn't resist the photo op with Rinko
Following location was the Pine Shrine, dedicated to the Rickshaw Railway. Nearby was a "Farewell" statue which tells a local story. In short, a lady was in love with a man, but falls for a richer man instead because of a huge diamond ring. So under this pine tree, her lover kicks her down and leaves her. Like a boss.
Lets hope it will never come to this for DS couples, as AR markers keep lovers occupied than to remember such old tales;
A short lived but very tiring day, as the guest did not stay the night but returned by bullet train on the same day. So this concludes the guests point of view as he heads back to Tokyo, while Mr. Kajita went to take a break;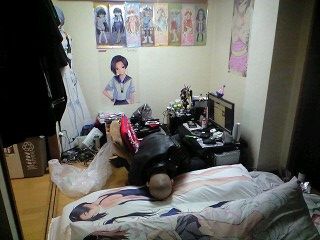 The local media took this opportunity to interview and run a "Love Plus +" program to discuss it's popularity and uprising.
The AR markers were not only placed at designated touristy areas, but all over Atami. An AR map would provide a better view of just how many there were;
Some examples of where the AR markers were placed all over the city;
As Atami is considered one of the
Sandaionsen
(三大温泉/Great Three Hot Springs) of the country, it is only natural to expect some special souvenirs for this event; "Love Plus +"
Onsen Manju
(温泉饅頭/Hot spring buns)
Later that night, those who stayed at Hotel Ohnoya were treated to a special "Midnight Mode Event", which started at 00:00 automatically for all DS users via uplink DS stations;
A small preview of the video which inflicted insomnia for that night;
(For some reason the player auto-plays the video, thus the awkward sound when you first load this page)
Meanwhile, the hotel guests were relaxing together with their DS lovers...
And what happened later that night, I will not divulge any further and leave that to your imagination.
~And this concludes the coverage of Love Plus Atami Compaign ~